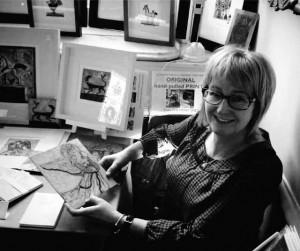 Julie Rumsey – Biography
Julie Rumsey is a printmaker and mixed-media artist who uses a variety of printmaking techniques, Monoprint, Linocut, Drypoint Etching and Collagraph, to create original hand-pulled prints and mixed-media work rich in colour, texture & pattern.
Born in London, then raised in Canada & Suffolk, she worked successfully for many years as a shoe designer, graduating from De Montfort University with a BA Hons (1st) in Fashion & Textiles. In 2004 she made a decision to leave the fashion world to embark on a career in Printmaking.
2004 – 2006 she attended printmaking workshops at Buckingham Chilterns University College. Numerous external courses later, and after investing in an etching press, she currently uses all the skills accumulated as a commercial designer and applies them to her printmaking and mixed-media work, working from her 'Print Shed' at home in the Chilterns.
Her work has been exhibited at:
Windsor Emporium – http://www.windsoremporium.co.uk/
Emerald Framing Gallery – http://www.emeraldframes.com/Emerald-gallery.htm
Collective Art in Marlow – http://www.collectiveartinmarlow.co.uk/

The Granary, Chesham
Bucks Art Weeks – 2011, 2013, 2014, 2015, 2018 & 2019 – http://www.bucksartweeks.org.uk
Windsor Contemporary Art Fair 2013 & 2014 – http://www.windsorcontemporaryartfair.co.uk/
Reading Contemporary Art Fair 2014
Landmark Autumn Art Fair 2014, 2015 & 2017
Obsidian Art – http://www.obsidianart.co.uk
Fitch and Fellows Gallery, Thame – 2019